Welcome to Elefanjoy, the most beautiful wildlife elephant sanctuary in India. Our sanctuary is home to many beautiful elephants, most of whom were rescued from abusive environments. We provide a peaceful refuge for these elephants, and take great care of them in a loving and ethical way. You can read more about our sanctuary here.  By providing activities with tourists, we are able to fund their care and also provide our guests with the once-in-a-lifetime experience of getting close and personal with the elephants. Our experience includes:
You can learn more about the experience here. We truly encourage you to come enjoy one of the best and most meaningful activities in all of India. We look forward to welcoming you and know it will be an experience that you will never forget!

Excellent Reviews on Trip Advisor
It's an awesome fun for kids to be here..an unique experience for adults too..request to develop changing area and toilets for visiting guests..

247abinayar


September 5, 2022

Humane and sustainable way to get up close and personal with amazing elephants - My mom and I loved this elephant sanctuary! We were given the time to get to know and bond with the wonderful elephants we encountered and even got to... read more take them on a walk to a watering hole and feed them. This sanctuary takes wonderful care of their rescue elephants, they do great work here. This is a fantastic experience for all ages, thank you so much.

Y4883UMcameronc


March 15, 2023

If you're anxious to see your money go towards the ethical treatment of animals this is the place for you!

Ankit & his team do really important work... read more in protecting these elephants & treated us with the highest level of hospitality. It's a must see experience if you're visiting Rajasthan!

You're given as much time as you want & plenty of freedom to get to know & interact with their elephants. In particular, the elephant walk left a lasting impression. A great opportunity to connect with these beautiful creatures.

J5629CCtomd


May 23, 2022
About Our Services (Fun with Elephant)
Elefanjoy is one of a kind Asiatic elephant wildlife sanctuary in Jaipur where you can dive deep into the lives of these majestic animals to have an experience of a lifetime. At Elefanjoy, we want to make people aware of these animals' habitats and learn more about them in a fun and interactive way. At our sanctuary, you can interact with elephants, feed them, paint with them, and give them a fun shower!
At Elefanjoy, we have created a haven for Asiatic elephants. Here, you can get up close and personal with these beautiful creatures we rescued from abusive and negligent living conditions. All our proceeds go to the welfare of these animals. At Elefanjoy, you can enjoy being close to nature and uplift your spirits by spending time with these gentle giants. 
During your day's reprieve at Elefanjoy, you can help us care for the elephants and, simultaneously, have a fun vacation with your friends and family.
Things to do at Elefanjoy
Let's start with trunk shakes! (Meeting with elephants)
Once you reach the sanctuary, our caretakers will be there to greet you and take you to meet elephants. The feeling you get when you see these gentle giants is mesmerizing, and one can never get used to it. If you feel the jitters when going near our elephants, don't worry. Our staff will explain the right way to befriend these beautiful animals. 
You can know them individually by name, pet their trunks, and feel humbled by their magnificence.
Showcase your creativity with elephant painting!
Rajasthan is known for its vibrant culture and traditions, and art is a big part of it. How can we let you leave without experiencing a bit of that grandeur? That's why next on the list is to have fun with our elephants by painting them. You can go all in and create a riot of colors, shapes, and designs on our elephants. Make them picture-perfect for your photographs! Worried about the paint and the toxic chemicals in the colors that can hurt the elephants? We were too! That's why we only use eco-friendly colors made with natural plant-based dyes for our elephant painting activities. The brush is also designed with bamboo sticks, so the elephants are not harmed. (Paint your heart out!)
Feeding elephants is the best way to get close to an elephant's heart. They love bananas, sugarcane, bamboo leaves, and tree bark. Feed them with your hands to see how happy they are to be fed. We will guide you through the feeding process before handing out treats. 
A humble request: Please don't bring any food with you to feed our elephants. At Elepfanjoy, we provide all our elephants' food for feeding sessions. You can let us know any unique treats you want to feed, and we can arrange them for you.
Time for some splish-splash!
Elephants love water and mud baths, and the summers of Jaipur make bathing an ideal activity for both you and the elephants. Get on to the back of our elephants for a thrilling water spray from their trunks, scrub, and pet them for a fantastic bathing experience with elephants. Or watch an elephant enjoy the water during hot summers. (Bathing is not possible during winters.)
Time for a stroll! (Walk with elephants)
After the fun bathing session, you can enjoy a stroll with our elephants in the sanctuary. The peace and serenity you feel in the presence of these animals in the middle of nature can relax you and fill you with soul-filling joy. 
We don't promote elephant back riding to our guests as it can harm our elephant's back and spine in the long term when they carry people on buggies on their backs.
Elefanjoy was started with a dream to protect and provide for elephants in negligent and abusive conditions by Mr. Ankit Pareek. Ankit is a certified Yoga practitioner and trainer who has spent his childhood with the elephants in Jaipur. He has won several Gold medals in state competitions. As he grew up, he realized the need for a safe space for these majestic beings on earth who are treated cruelly. 
That's how, in 2012, he founded Elefanjoy and spent all his time building the best wildlife elephant sanctuary in India for Asiatic elephants. Since then, Elefanjoy has been caring for these animals and striving to make people more aware of their conservation. Ankit takes his morning and evening Yoga sessions these days and spends the rest of his free time caring for these elephants now.  
We have about 20 elephants at Elefanjoy from all across the country who need a safe abode. Through Elefanjoy, we try to provide and care for these animals in the best way possible.
Activities To Do In Jaipur
Special Jaipur Guided Tours
Jaipur is a fascinating city that offers an array of activities and attractions. Whether you're looking to explore the colorful markets or take in some of Rajasthan's most stunning monuments, our tours will give you a memorable experience of this magical place. Book Our Special Jaipur Tours Now by clicking the button below.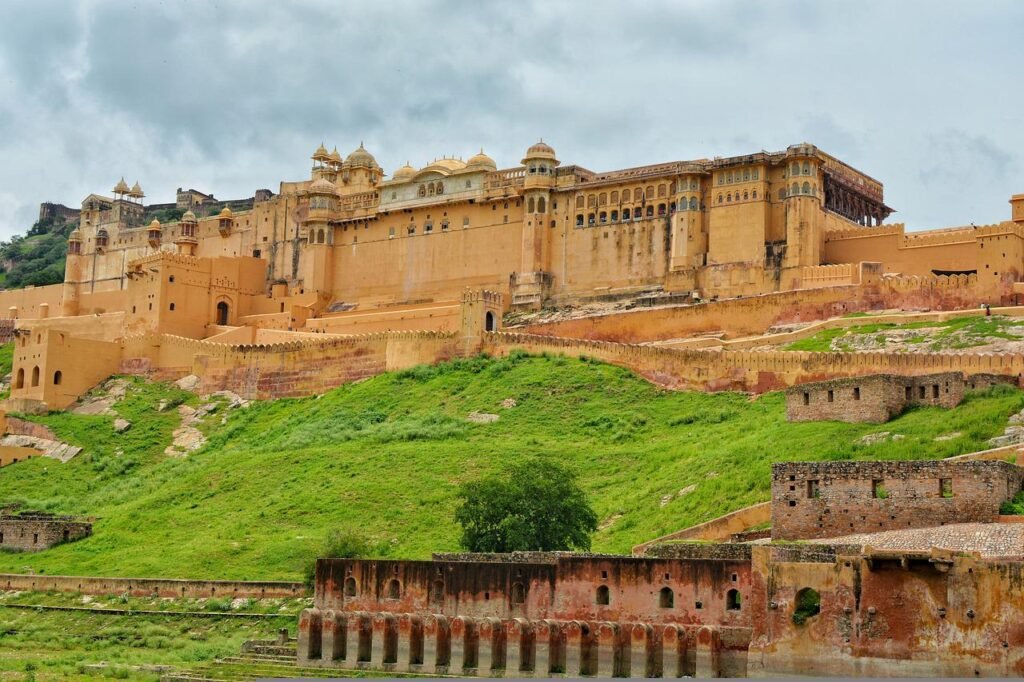 Celebrate Your Moments at Elefanjoy
Nothing compares to the feeling you get when you are near these amazing elephants, but we can give you a glimpse of what you are missing… Check out the amazing photos and memories our guests have created at Elefanjoy. Share your pictures with us to get featured in our gallery!
Bhagwat Gita states, "When you feel the suffering of every living thing in your own heart, that's consciousness." At Elefanjoy, we live by this philosophy and ensure no harm to our beloved animals. Elephants are one of the kindest and most loving animals on this earth, and humans have used them for their benefit for thousands of years, making them live in cruel and negligent conditions.
We are very aware of our guest's ethical concerns over the fair treatment and care of our elephants. We can assure you that the welfare of our elephants is a main ‌priority at the sanctuary, and we go out of the way to ensure that no activities or practices harm them.
2009 Pitaliya Bhawan, Pitaliyon Ka chowk, Peetliyon, Bordi Ka Rasta, Johari Bazar, Jaipur, Rajasthan 302013