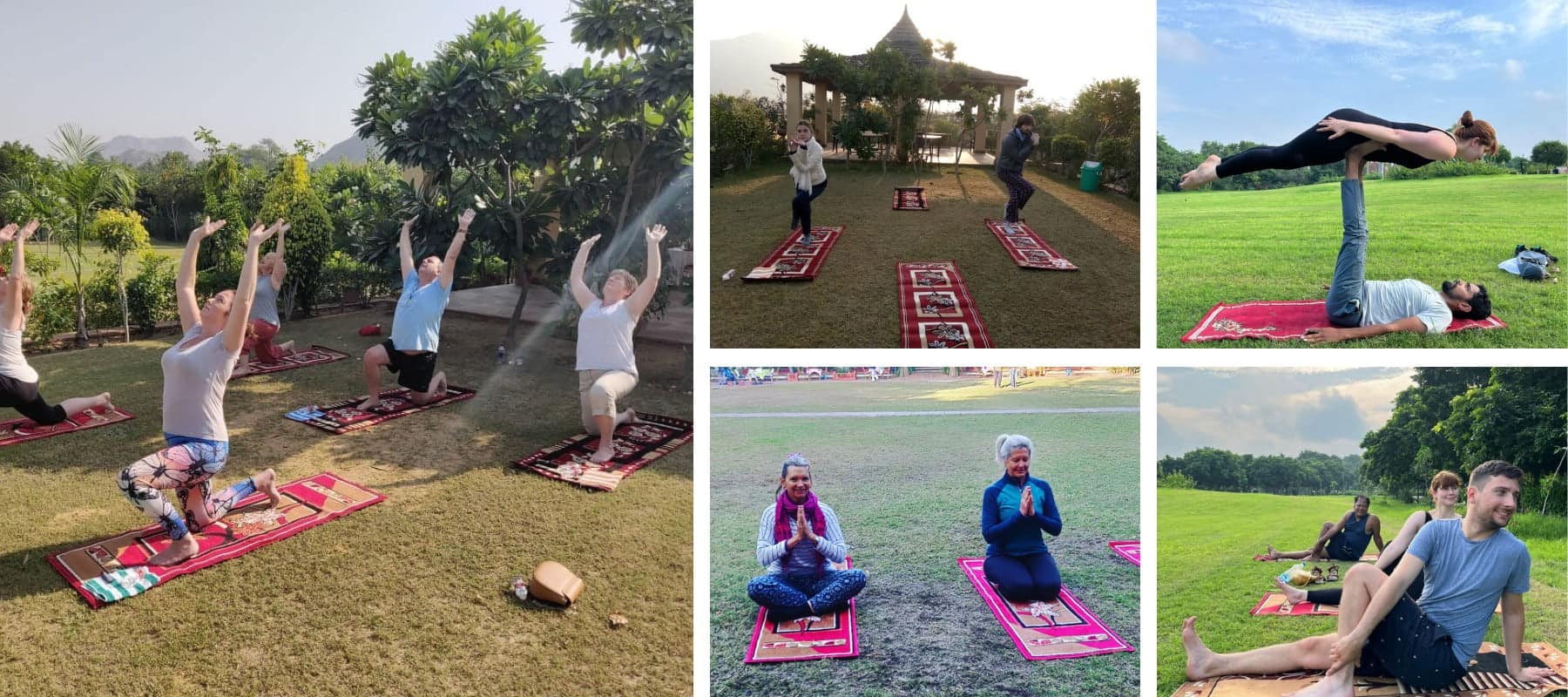 Experience the ancient Indian practice of Yoga amidst nature at the YOGA ashram in Jaipur. Connect with your body, mind, and soul while rejuvenating yourself in the early morning rays of the sun and the soothing sounds of nature.
Start your day with a Sunrise Yoga session that begins with an introduction to yoga and its benefits for your body and mind. The session includes Surya namaskar, pranayama stretching, and a meditation yoga lesson. With the capacity to accommodate up to 100 people in one session, you can enjoy the enriching discipline of yoga in a serene and natural environment.
After the Sunrise Yoga class, enjoy a sumptuous and healthy breakfast to energize you for the rest of the day. You can also get ready at the ashram and go sightseeing directly from there, without returning to the hotel. We offer drop-off services to popular sightseeing places in the city such as the Amber Fort, or back to your hotel for a relaxing day.
Immerse yourself in the practice of Yoga and its numerous benefits for your body, mind, and soul amidst the beautiful and natural surroundings of Jaipur. Join us at YOGA ashram today and create unforgettable memories. Keywords: Yoga, Indian practice, nature, Sunrise Yoga, Surya namaskar, pranayama, meditation, breakfast, sightseeing, Amber Fort, benefits. Sunset Yoga Classes and Tours and tour packages is a must in Jaipur. These are included in Tour packages that we take.
5:30 pm – Hotel Pick-up: Our tour representative will pick you up from your hotel.
6:30 pm – Yoga Session: Arrive at the Ashram and participate in the rejuvenating sunset yoga session from 6:30 to 7:30 pm.
7:30 pm – Dinner: After the yoga session, indulge in a healthy and delicious dinner served from 7:30 to 8:00 pm.
8:00 pm – Drop-off: After dinner, we'll drop you back at your hotel or any other location as per your instructions.
This tour provides a perfect opportunity to unwind and relax while practicing yoga against the backdrop of a stunning sunset. Join us for a truly memorable experience.
Free pick-up and drop-off.
Water bottles.
Tea.
Coffee.
Cold Drinks & Juice.
Yoga Mat.
Fill out this Form to Book your Tour, our team will Contact you within 24 hours.
Contact us through Social Media: