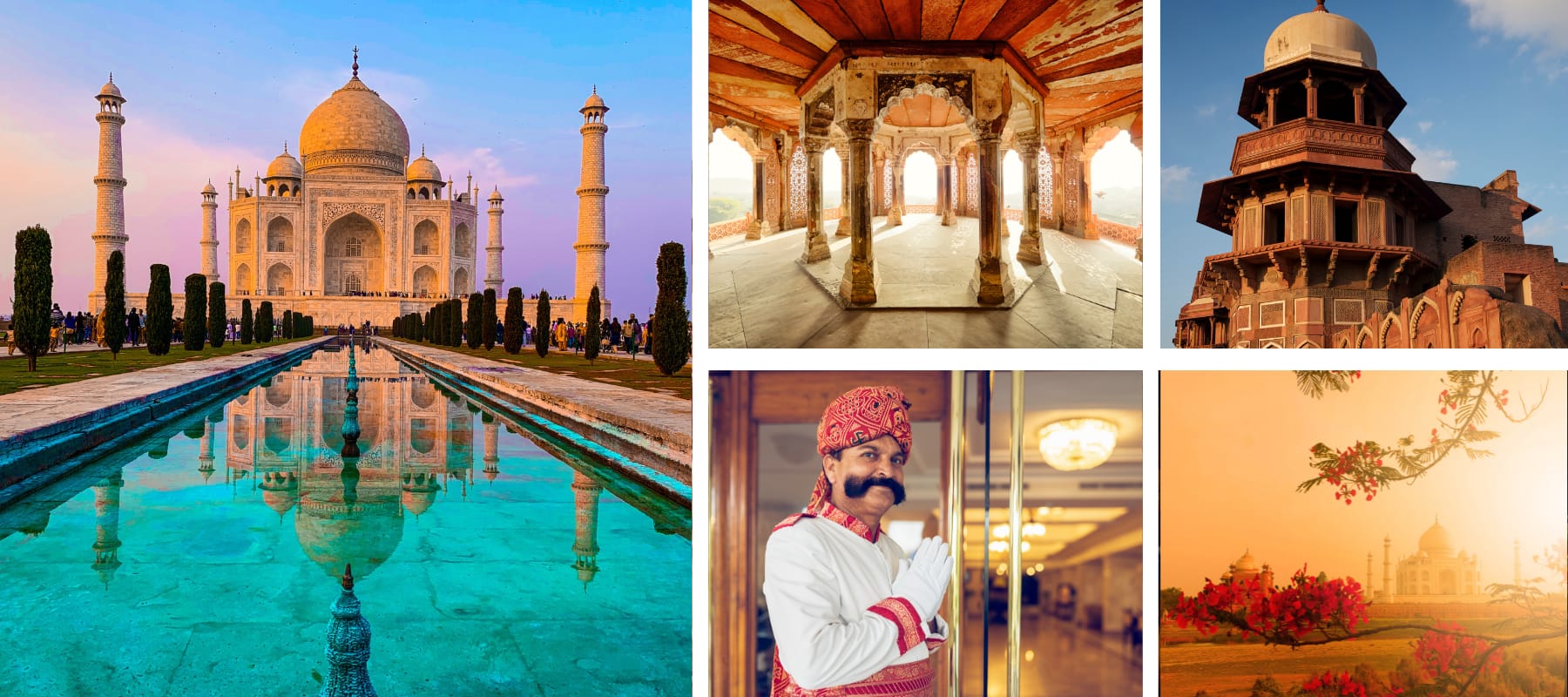 Experience Same-Day Taj Mahal Tours: Explore India's Iconic Monument
Are you in search of Same-Day Taj Mahal Tours? Look no further; we offer a range of Taj Mahal tour packages from Delhi, both by train and car, at affordable rates.
Our services extend beyond transportation; we also provide expert guide services for your Agra City Tour. Our professional tour guides are certified by the Ministry of Tourism, ensuring you get the most insightful and enriching experience.
Discover Agra's Majestic Attractions:
Agra boasts one of the world's seven wonders – the Taj Mahal, a globally renowned mausoleum located along the banks of the Yamuna River. Commissioned in 1632 by the fifth Mughal Emperor Shah Jahan, it stands as a timeless tribute to his beloved wife Mumtaz.
The Agra Fort, another architectural gem, was constructed by the great King Akbar in 1565. This historic fortress encompasses notable structures such as the Moti Masjid, Diwan-e-Khas, halls for public and private audiences, Jahangir's palace, Shish Mahal, and more. Shah Jahan's renovations transformed the fort into a grand palace. Additional must-visit places include Itimad-Ud-Daulah and Mehtabh Bagh, offering breathtaking views of the Taj Mahal from the riverside with varying light conditions. As the former capital of the Mughal Empire, Agra boasts a plethora of architectural wonders that showcase the mastery and artistic vision of its builders. Missing any of these would mean missing an extraordinary experience.
Morning 6 AM (Recommended pick-up time, subject to weather conditions): Depart for Agra via the Yamuna Expressway (3-4 hours drive) – a top-notch expressway connecting Delhi and Agra. Along the way, you'll find clean rest stops offering restrooms, fuel, emergency first-aid, and hygienic food options.

Upon arrival in Agra, your driver will introduce you to a government-licensed local guide (timing adjusted for sunlight). Your first stop will be the masterpiece of love – the world-famous Taj Mahal. This symmetrical wonder took 22 years (1630–1652) and 20,000 artisans to complete. The guide will assist you in obtaining tickets, including a water bottle and shoe cover. A comprehensive Taj Mahal Tour typically spans 2-3 hours (you can take your time), and you'll return to the parking area via Golf Cart.

Following the Taj Mahal tour, head to Agra Fort. This fort exemplifies Mughal architecture and showcases the architectural differences between North and South Indian forts.

After the fort tour, your driver will recommend one of Agra's finest restaurants for an authentic Indian meal (reservation recommended).

Next, visit I'timad-Ud-Daulah (Baby Taj) after savoring the flavors of Indian cuisine.

I'timad-Ud-Daulah, situated on the Yamuna's left bank, features mausoleums set amidst a sprawling cruciform garden. After your Baby Taj tour, you will have completed the Agra sightseeing experience.

If time allows, en-route back to Delhi, you can visit the exquisite Hindu Akshardham Temple on the Delhi border.

Finally, conclude your journey with a drop-off at your Hotel or the Airport, based on your planned itinerary.
Convenient pick-up from the airport or your hotel.
English-speaking guide to accompany you throughout the tour.
Complimentary mineral water in the car.
All parking, toll taxes, and fuel expenses. (Additional language guides available upon request for a nominal fee.)
Tips and meals (unless specified).
Medical and baggage insurance.
Any services not explicitly mentioned.
Entrance tickets to monuments.
Contact us through Social Media: