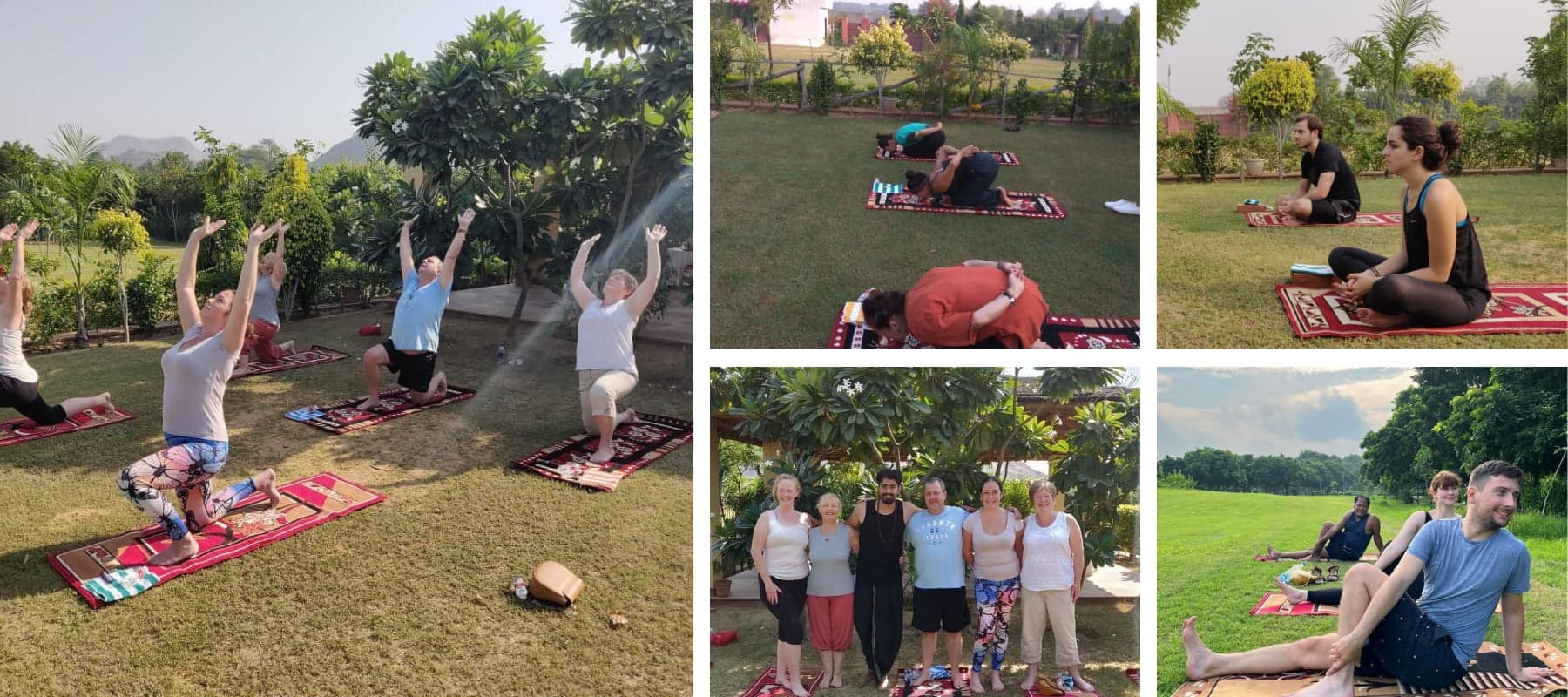 Join us at the YOGA ashram in Jaipur, a serene and nature-friendly location for a rejuvenating Sunrise Yoga experience. Yoga, an ancient Indian practice, is an enriching discipline that connects your body, mind, and soul. With us, you can practice yoga amid the beauty of nature and start your day on a peaceful note.
Our Sunrise Yoga session begins with an introduction to yoga and its numerous benefits for your body and mind. We then move on to Surya namaskar, pranayama, stretching, and a meditation yoga lesson. Our sessions can accommodate up to 100 people comfortably.
After the Sunrise Yoga class, we offer a wholesome and nutritious breakfast that will keep you energized throughout the day. You can also freshen up and get ready at the ashram for a day of sightseeing in Jaipur, as we provide free drop-off services to famous tourist attractions like the Amber Fort. Alternatively, we can drop you back to your hotel for a day of relaxation.
Join us at the YOGA ashram in Jaipur for a unique and enriching yoga experience amid the beauty of nature.
An holistic practice of yoga with our Sunrise Yoga Tour in Jaipur! Our itinerary includes:
Pickup: We will pick you up from your hotel at 6:30 am to ensure we have plenty of time to make it to the Ashram.
Yoga Session: From 07.30 to 08.30 am, join us for a rejuvenating and invigorating yoga session led by our experienced and certified yoga instructors. Connect with your body, mind, and soul amid the beautiful natural surroundings of our Ashram.
Breakfast: After the yoga session, we'll provide you with a sumptuous and healthy breakfast from 08.30 to 09.00 am. Enjoy the flavors of India while reflecting on your yoga practice and the beautiful surroundings.
Drop-off: At the end of the tour, we'll drop you back at your hotel or any other location in Jaipur as per your instructions.
Come join us for a revitalizing and authentic yoga experience in Jaipur. Book your Sunrise Yoga Tour now!
Car and Driver
Water bottle
Cooking food and items
GST
Contact us through Social Media: