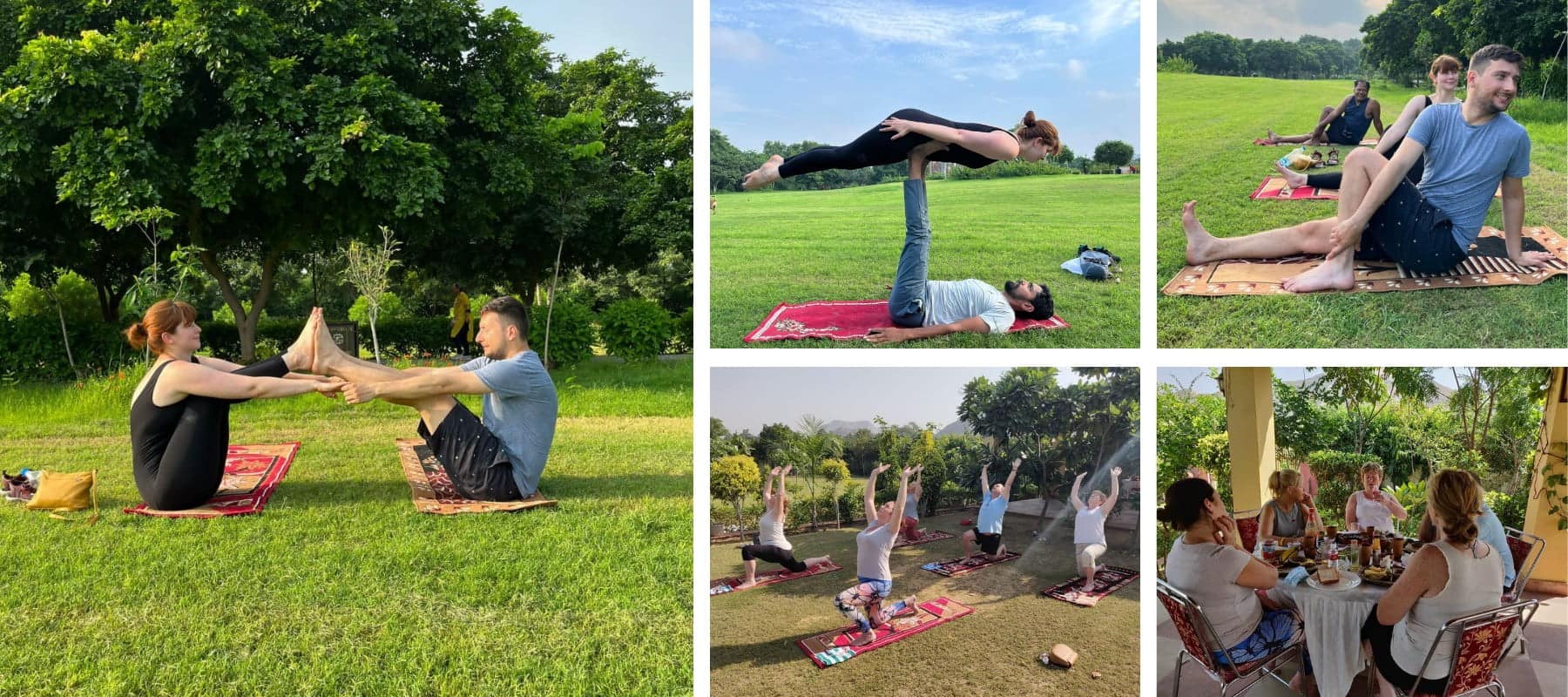 Rejuvenating Sunrise Yoga in Jaipur
Welcome to Yoga in Jaipur, where we offer rejuvenating yoga sessions in a beautiful and serene garden setting, allowing you to connect with nature and harmonize your mind, body, and soul. Yoga tours in India.
Our most popular offering is the Sunrise Yoga class, which is designed to help you start your day with positive energy and mindfulness. The class includes an introduction to yoga, followed by a warm-up, stretching, various rejuvenating poses, pranayama, and a short lesson on meditation, all while enjoying the breathtaking beauty of the sunrise.
After the class, we will serve you a healthy breakfast that will boost your energy and nourish your body. If you don't need to go back to your hotel, we provide space for you to freshen up and prepare for sightseeing. Plus, if you're interested in visiting Amber Fort or City Palace, we offer free drop-off at these popular tourist spots.
Join us for an unforgettable yoga experience in Jaipur and rejuvenate your body and mind. Book your session with us now!
5:30 AM – Hotel Pick-up: Our tour representative will pick you up from your hotel in Jaipur.
6:30-7:30 AM – Yoga Session: Arrive at our beautiful garden setting and immerse yourself in a rejuvenating yoga session.
7:30-8:30 AM – Healthy Breakfast: After the yoga session, enjoy a healthy and energizing breakfast.
8:30 AM – Drop-off: We will drop you off at your hotel or any other sightseeing destination of your choice in Jaipur.
Experience the traditional and holistic health practice of yoga in the beautiful city of Jaipur with our SUNRISE YOGA tour. Connect with nature, harmonize your mind and body, and start your day with positive energy. Don't forget to check out our Instagram for more information. Book your session now and let us guide you through an unforgettable experience!
Free pick-up and drop off.
Water bottles.
Tea.
Coffee.
Cold Drinks & Juice.
Yoga Mat.
Fill out this Form to Book your Tour, our team will Contact you within 24 hours.
Contact us through Social Media: